Name: WiFi Solar Camera Wireless Low Power Network Camera Built-in Battery Solar IP Camera APP Remote Monitoring Video Viewing Alarm Alert HD Night Vision 1080P Home Security Camera

Model: VF-S5
Brand: VinFine
¡ï Features:
¡ô 1080P HD Video
¡ô Solar and Battery Powered
¡ô Connection Method: WiFi connection.
¡ô Two Way Audio: Built in microphone and speaker, no matter how far away, you can easily talk to the baby, child, family through the camera remotely. Even if you are out of your home, through the camera, you can talk to the delivery man how to deal with your package.
¡ô Full Color Night Vision: Intelligent camera with full color night vision function. Good night vision and better definition at night.
¡ô PIR Motion Alarm: If the PIR alarm function is enabled, the camera will send the alarm information to the user's mobile phone when some invades the surveillance area.
¡ô PIR Detection Alarm: Any suspicious person who is detected and recorded in the eyes of the camera will appear, let thieves and robbers have nowhere to hide. Simultaneous, you will receive an APP alert on your smart device right away, no matter where you are.
¡ô Support Multiple People and Multiple Platform Simultaneous Viewing.
¡ô Remote Recording: Support recording within a distance of 10 meters. The camera's built in speaker can support remote calling and restore a more realistic scene.
¡ô Remote Viewing: The camera can be connected to the network, and the real time screen can be viewed through the monitoring APP. Online playback with video recordings stored on the memory card.
¡ô Two Storage Methods: Support TF card storage and Cloud storage to meet the needs of different populations. The TF card slot allows you to insert max 64GB TF card, you can keep recording continuously and play back past videos anytime, anywhere. The Cloud storage automatically stores the recorded video when it is turned on. Better security performance, can be in any network time
¡ô APP supports Android/ IOS system
¡ô IP67 Waterproof: Complete protection to avoid the intrusion of powder, strong water spray can not invade the machine, and will not cause harm.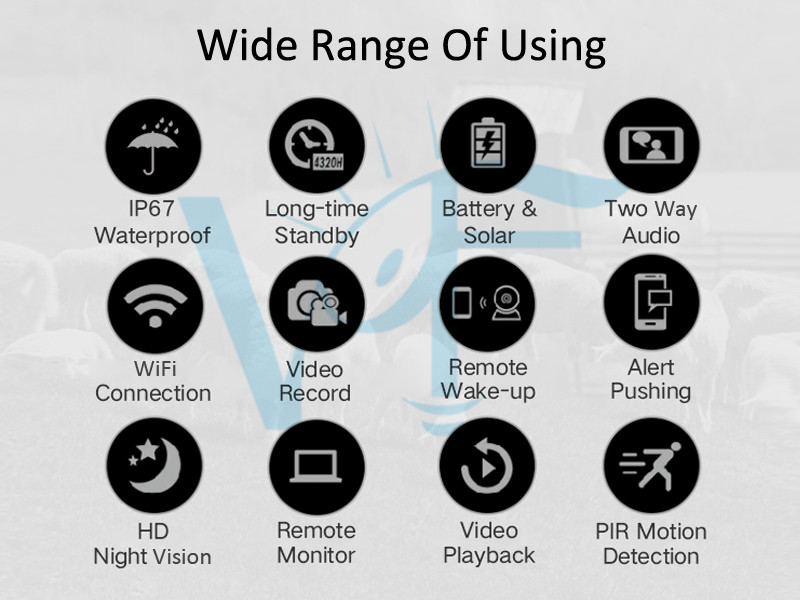 ¡ï Specification:
¡ô Main Chipset: Hi3518EV200
¡ô APP: UBOX, ios10.0, android5.0 above
¡ô Sensor: HD COMS Sensor 1/2.7 PS5230
¡ô Lens: 2G2P FULL Super-Angle Lens
¡ô Angle: Horizontal 92 Degree
¡ô Video Stream: 1920*1080/15fps 1920*1080/15fps
¡ô CMOS: Support Auto Whitelight Balance, Auto-Enhanced Control, Auto Blacklight Compensation
¡ô System: Lite OS
¡ô Standby Time: Lighting For 4 Hours Under The Sun, Last For One Day
¡ô Day & Night Switch: Dual-filters Auto-switch
¡ô Night Vision: Infrared Night Vision 10-15m, Full Color Night Vision 20-30m
¡ô Internet Match: QR Code
¡ô Motion Detection: PIR Detection
¡ô Audio: Coding: AAC&G.726; I/O: '-38dB Mic / Inside 1*Speaker
¡ô Recording Methods: Manual / Alarm Recording
¡ô Internet: WiFi
¡ô Network Protocol: P2P, TCP/IP, HTTP, TCP, UDP, SMTP, DHCP, DNS
¡ô Alarm: PIR Detection
¡ô Auto-adaptation: Yes
¡ô Two-way Speak: Real-time Talk
¡ô Panoramic Show: Analog 3D & Auto Cruise
¡ô Standby Time: 15S, 30S, 60S, Option
¡ô Voice Call: Yes
¡ô Remote Waking: Yes
¡ô Motion Waking: PIR
¡ô Power: Solar Panel + USB Power
¡ô Temperature: -30¡æ~60¡æ
¡ô Humidity: ¡Ü80%RH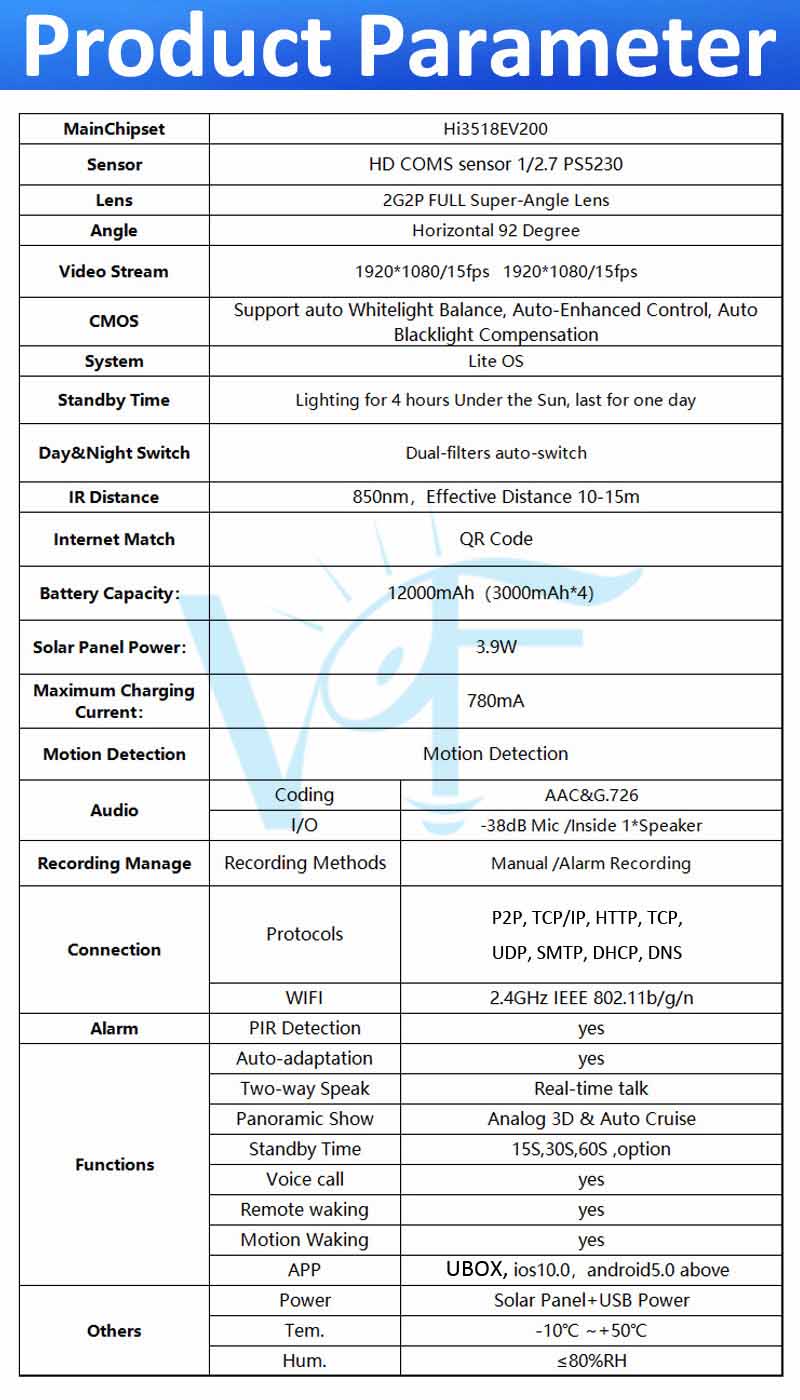 ¡ï
Product Pictures: