Name: GSM Alarm System Wireless Home Burglar Alarm Systems House Security Motion Detector APP Remote Control Android IOS Door Sensor PIR SOS Alarm Two Way Voice Numeric Keypad

Model: VF-CS85
Brand: VinFine
★ Brief Introduction:
GSM LCD intelligent voice burglar alarm system, combined with advanced GSM digital signal and network technology + peripheral sensing detection technology, when the host enters out-of-town defense zone, the intruder illegally invades, the peripheral sensing detector immediately sends a wireless signal to inform the host, the host immediately make voice call or send SMS to inform the place and alarm information automatically, protection of property from infringement.

It is widely used in families, factories, schools, shops, convenience stores, financial offices, villas, residential areas and other places that need protection.
★ Features:
◆ GSM network technology, reliable and stable;
◆ Voice prompt, large LCD display, simple operation;
◆ Message, message playback, bypass defense zone selection, command operation, safety;
◆ Support 8 types of defense zone selection, can be disarmed by partition;
◆ Support timing arming and disarming;
◆ 10 seconds recording message, 10 seconds playing message;
◆ Support control of outdoor sound and light siren (arming and disarming, alarm control, etc.);
◆ Support multiple arming and disarming methods, SMS, telephone, remote control;
◆ Support arbitrarily configure the detector, 4 wired accessories, 99 wireless accessories, and 99 defense zone names;
◆ Support wireless doorbell button, control the doorbell host to make "dingdong, dingdong" sound;
◆ Support alarm storage record query;
◆ Support phone voice remote control, voice call alarm;
◆ 6 sets of voice alarm calls, 2 sets of SMS alarm calls;
◆ Support AC power failure alarm report, AC power recovery report, low battery power report;
◆ SOS button, when an alarm occurs, press SOS button to call for help, the alarm system will immediately beep on the spot and make call and send SMS to notify the user;
◆ Built-in high-capacity lithium battery;
◆ Built-in 110dB treble siren, no external speakers; can effectively deter illegal intruders;
◆ Built-in shouting function, no wiring, more beautiful. can remotely monitor and shout on the spot to deter illegal intruders;
◆ App remote control, support IOS Apple system and Android system.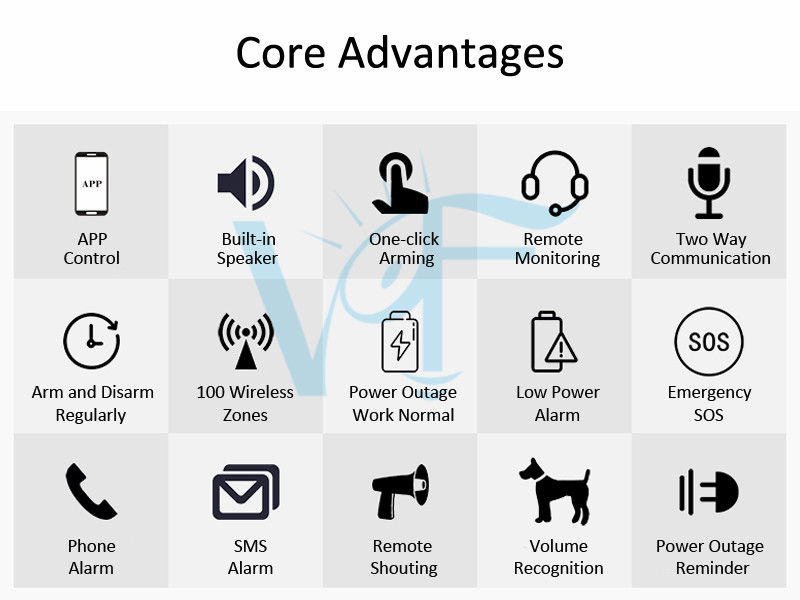 ★ Specification:
◆ Power Supply: AC110~230V, DC12V 1A
◆ Backup Battery: 7.4V 500mAh Lithium Battery
◆ Operating Voltage: <120mA
◆ Standby Current: ≤80uA
◆ Alarm Output: ≤500mA
◆ GSM Frequency: 850/900/1800/1900MHZ
◆ GSM Network: 2G
◆ Wireless Frequency: 433MHZ
◆ Alarm Transport: GSM
◆ Alarm Decibel: ≥110dB
◆ Working Temperature: -10℃-60℃
◆ Working Humidity: ≦95%
◆ Standard Package: 1* Alarm Host, 1* Built-in Battery, 1* Wireless PIR Motion Sensor, 1* Wireless Door Sensor, 2* Wireless Remote Control, 1* Power Adaptor, 1* User Manual, 1* Box
★
Product Pictures: